weekly winners: snow!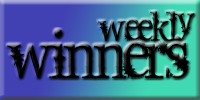 January 31-February 6, 2010

I'm tired of winter! It snowed last weekend, and then again Tuesday night.


And then Friday into Saturday, the Snowpocalypse arrived. Friday night we went outside (with drinks) to hang out with the neighbors. What was going to be a snowball fight instead turned into a snowman-building event. Well, the neighbors built while my husband and I supervised.
Snowman at night ... he's about seven feet tall!
The next day. We put out the cone for the snow plows.
Ha ha ha. Yeah, my husband and neighbors are currently shoveling the cul-de-sac ...
The view from our porch.
The back deck. I measured the pile on the table at 22 inches when it finally stopped snowing.
At least Jeter cat was staying warm!
Visit
Lotus
to see more Weekly Winners!
Labels: weekly winners